Copenhagen Fintech and Infosys enter into a collaboration to establish a bilateral fintech innovation bridge between India and the Nordics.
Copenhagen Fintech today announced a collaboration with Infosys (NYSE: INFY), a global leader in next-generation digital services and consulting, to strengthen connections across the innovation ecosystem and support the development of new and compelling fintech solutions for the global financial services industry.
Copenhagen Fintech's core mission is to develop Denmark and the Nordics as one of the leading fintech hubs in the global financial services industry by supporting and catalyzing the next era of technology-led corporate and start-up innovators. Copenhagen Fintech's innovation lab has approximately 40 startups, building next generation financial technology. Copenhagen Fintech has more than 200 members, and currently works with more than 35 Nordic and global financial institutions, technology companies and advisory firms.
This collaboration between Infosys and Copenhagen Fintech will involve joint participation in events and conferences to facilitate the mutual sharing of deep industry experience and expertise with Copenhagen Fintech's corporate partners.
"We are very proud that Infosys, a leading global technology provider, has chosen to join us to accelerate innovation. Through this collaboration Infosys will gain access to a leading Nordic fintech innovation platform and Nordic fintech startups will gain exposure to one of the world's largest and most interesting markets. Infosys' competencies and global network will be of huge benefit to the ecosystem. Cutting edge knowledge and technology together with deep relationships with some of the world's largest corporations and financial institutions will be the foundation of the 'innovation bridge' we establish between Denmark, the Nordics and India", Thomas Krogh Jensen, CEO of Copenhagen Fintech.
Infosys will engage with Nordic startups, participate in masterclasses and hackathons to share knowledge and up-skill the next generation of technology leaders, drawing on its strong heritage operating at the intersection of technology and financial services. The mutual alliance will also enable Infosys to tap into the agility of the start-up ecosystem, culture of open innovation and collaborate with industry leading talent to accelerate access and development of cutting-edge financial solutions. The Infosys Innovation Network (IIN) engages with startups globally providing its members access to market, and investment via the Infosys Innovation Fund.
As a global leader in next-generation digital services and consulting, Infosys enables clients in 46 countries to navigate their digital transformation, with four decades of experience in managing the systems and workings of global enterprises. Today, banks in over 100 countries rely on Infosys Finacle, part of EdgeVerve Systems, a wholly owned subsidiary of Infosys, to service more than a billion consumers and 1.3 billion accounts.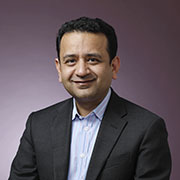 Global corporations and Financial Institutions are looking at Fintech partners from across the world to accelerate innovation, and we are delighted to collaborate with Copenhagen Fintech, one of the fast growing and vibrant ecosystem platforms. Nordics is a strategic market for Infosys, and we are committed to working with Nordic corporations and financial institutions, to invest and accelerate their digital transformation journey. By bringing our global expertise in financial services to the region and helping Danish start-ups in their global ambitions by introducing them to Infosys' client and partner networks, we aspire to strengthen the Danish cluster",Mohit Joshi, President, Infosys.
One of the many Danish fintech companies that hope to benefit from this new collaboration is Agroclimatica. The company provides a tool for financial institutions introducing transparency in agricultural lending or insurance by quantifying the agroclimatic risk exposure of each credit. Enabling financial institutions and stakeholders within the agricultural value chain to optimize allocation policies, increase their portfolio and decrease operational costs.
"As a start-up looking to provide innovative solutions with actual impact to financial institutions, serving millions of agricultural lenders but leaving even more outside the financial ecosystem, India is an obvious market to enter. The Nordic fintech scene is gaining momentum in Asia and we are excited to be part of the movement. Collaborations with Indian financial institutions and technology companies are crucial to our continued growth," said Lars Saquero Møller, Managing director, Agroclimatica.