All you need are the financial licences. The Digital Banking Platform takes care of the rest.
When DECTA's CTO, Aivars Belis, decided to develop a full-scale Digital Banking Platform, the idea was not to reinvent the wheel, but instead to integrate every required service necessary to let companies launch a digital financial services solution quickly.
All you need is your financial licence.
DECTA is marketing the platform to any entity interested in providing an integrated financial offering, not only fintechs. This includes telecoms, major corporations, or even smaller businesses.  
"We set out to create a holistic solution for our end customers, determined to steer clear of vendor lock-in," says Belis. "Our platform allows clients to seamlessly integrate their own front-ends through our API, expand the solution's back-end with their services, or harness the benefits of our pre-built front-end."
And all of it is white-labelled.
Just one of the core elements the platform simplifies is customer onboarding, including KYC and AML checks. "AML and KYC are some of the heaviest and most expensive aspects of building a financial product," says Belis, whose experience in financial services spans over 25 years, both in the customer and vendor side. "Our objective was to minimise the onboarding process to a maximum of 30 minutes for legal entities and even less for private customers, wherever feasible." All onboarding is done completely online without any need to visit a physical branch.
"You could realistically enter the competitive arena alongside established players like Revolut, Starling, or Monzo as soon as tomorrow."

Aivars Belis, CTO of DECTA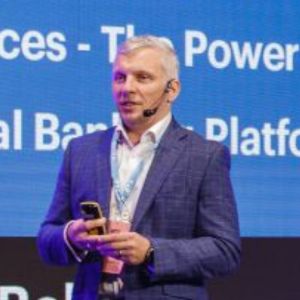 In certain jurisdictions, 30-minute KYC might not occur until there are regulatory changes. However, DECTA's platform makes it technologically possible.
Upon successfully completing the onboarding process, the end customer gains immediate access to the platform's comprehensive banking services. This includes opening accounts and payment cards, transferring money, and managing e-commerce and point-of-sale businesses using DECTA's mobile and web applications..
Companies don't need to enable all of it, but they're all available.
Recommended: Explore the Future of Finance at Nordic Fintech Week
"With our platform, you could realistically enter the competitive arena alongside established players like Revolut, Starling, or Monzo as soon as tomorrow," says Belis.
He tells NFM that it usually takes up to three hours to introduce the platform at demos. A short article describing it barely scratches the surface.
The solution includes built-in customer service through chat, and allows companies to plug in their own AI-powered chatbots if desired.
Possibly the only real solution for incumbents to go digital fast enough
After 15 years of beating the drum for digital, many incumbents still lag behind while things get easier for fintechs whose fundamental structures were built in a new age.
Creating a new system from scratch also isn't feasible.
In a race where the odds are already stacked against them, a solution like DECTA's Digital Banking Platform might be the only realistic chance incumbents have of catching up to the fintechs already far ahead in the game.
"It's more challenging to implement these solutions with legacy systems because there's no one-size-fits-all option for them," Belis says. "What many incumbents are doing now is creating sub-entities with their own assets and P&L sheets. In these greenfield situations, we're a lot freer to navigate and be agile."
But DECTA is fully prepared internally to serve in both greenfield and brownfield scenarios, and has the resources to scale its offering for projects of any size, legacy or not.
DECTA handles the "tech" part of fintech
DECTA's extensive and specialist expertise as a SaaS vendor in the financial services niche gives the company an edge, allowing it to create solutions that are typically more polished than those created by newer companies in-house. The digital banking platform solution's strengths include scalability, availability, and security, all of it provided under the umbrella of guaranteed SLAs, with a 24/7 team that monitors and maintains it.
By letting DECTA focus on the "tech," fintechs are freer to innovate on the "fin" side.